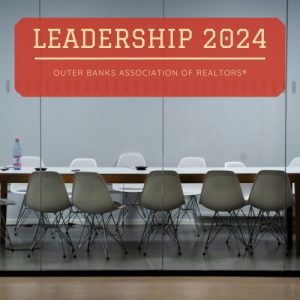 Tuesday, October 3, 2023, OBAR announced the 2024 Leadership Ballot.  If you would like to have your name placed on the ballot, you must file a petition signed by at least 10% (111) of the 1,114 REALTOR® members eligible to vote. The petition shall be filed by 5:00P, Friday, October 13th with CEO Willo Kelly, at the OBAR office, 201 W. Eighth St./Nags Head, who shall then certify all signatures and candidate qualifications in accordance with the bylaws and policies of the Outer Banks Association of REALTORS®.
The election will be held during the Annual Membership Meeting on Thursday, October 26, 2023, beginning at noon at Captain George's Restaurant. OBAR REALTOR® members may vote online October 20 - 26, 2023.
Click to Register for the Annual Meeting.
Visit www.outerbanksrealtors.com to view a list of the candidates.