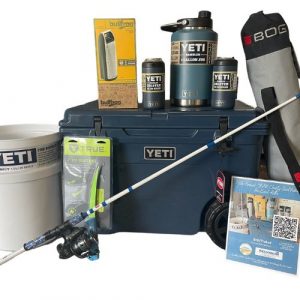 Friday, October 13th is OBAR's 26th Annual Charity Surf Fishing Tournament benefiting the OBAR Scholarship and Disaster Relief funds held through the Outer Banks Community Foundation.  NEXT Friday, September 22nd, is the deadline to register your surf fishing team with the early "Fish" discount of $240.  After the 22nd the price for a team goes up to $300.
Last year's event raised almost $7,000 benefiting the OBAR Disaster Relief Fund.  Team, "Guaranteed Bait" led by captain Brendan Medlin snagged the $600 first-place prize AND won the prize for biggest fish. Who will win this year? Join us on the 13th and find out!
Registration includes donuts with coffee, family style BBQ lunch, beer, and a chance to win CASH prizes, and multiple other raffle items.
Have you purchased your pre-event raffle ticket for a Yeti fishing package worth over $1,000?  Tickets are $10 each, and you may pay by cash, check, credit card, or Venmo. The winning ticket will be drawn shortly after teams hit the sand.
Special Thanks to the Following Sponsors:
Lunch:  Steven Gillis State Farm Agency/Rocket Mortgage
Beverage:  Malarney & McCown, PLLC
Pre-Event Raffle Prize:  Cola Vaughan Realty & Kellogg Supply
Breakfast:  Adam Upchurch, Marvel Realty Group
Snacks:  Island Insurance Agency
Grand Event Raffle Prize:  Super Wings
Biggest Fish: Kathleen Haithcock, Howard Hanna - Outer Banks
For more information contact Membership Services Director Karen Pierce at karenp@outerbanksrealtors.com or (252) 489-1478.