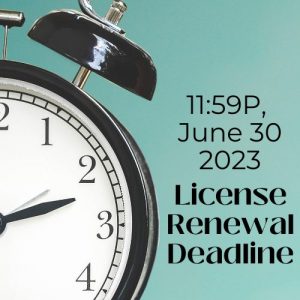 The clock is ticking! The deadline to renew your real estate license with the NC Real Estate Commission (NCREC) is TOMORROW, June 30th, at 11:59P.
Please note: If you are the BIC of your office and fail to renew before July 1st, you will automatically lose BIC status and your office will be inactivated until a new BIC can be assigned by submitting the proper forms to NCREC.
To renew, visit www.ncrec.gov NOW.  Renewal information is the first item on the page.  Follow the instructions and pay the $45 renewal fee by Visa, MasterCard, Discover, American Express, or PayPal. For questions or help, contact NCREC at ls@ncrec.gov or (919) 875-3700.