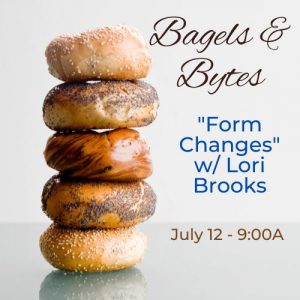 The 2023 forms going into effect on July 1st include some major additions, changes, and removal of several forms.  Join us July 12th for another Bagels & Bytes featuring NCR Forms Committee and OBAR member Lori Brooks, as she discusses what you need to know about these important changes.  The event will be held at 9:00A in OBAR's Kilgore Training Center (upstairs).  There is a Zoom option available.
Breakfast will be provided.  Please note that there will be a $10 no-show fee if you do not attend without cancelling your registration before the event.
Not able to make it?  You can learn more about these changes during NCR's Mobile Mondays July 17th at 1:00P on Facebook featuring NCR General Counsel John Wait.  Join the Facebook Group here: https://www.facebook.com/groups/ncrmobilemondays/ (You must answer three questions before being approved).