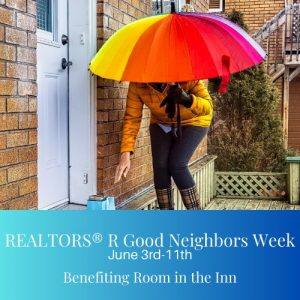 NAR's REALTORS® R Good Neighbors week begins next week on June 3rd and ends June 12th. The Young Professionals Network, chaired by Kirsten Shackelford, is holding a donation drive for Room in the Inn beginning Tuesday, May 30th.
Drop off locations include:
OBAR: 201 West 8th Street, NH
Twiddy: 1181 Duck Road, Duck
Coldwell Banker Seaside Realty: 4900 N.
Croatan Hwy, KH
Room in the Inn provides hospitality, food, and shelter to homeless adults in the Outer Banks during the winter months and support services year-round.  Currently, they are in need of the following items:
T shirts: short and long sleeve
Sweat pants: men and women
Feminine hygiene products
Cleaning supplies: paper towels, toilet paper, trash bags, disinfectant
spray
Toothpaste and mouthwash
New socks: men and women
Backpacks
Hats and gloves
New underwear: women and men
Razors and shaving cream
Monetary donations are also encouraged, and  you can make them at
For more information, contact Communications and Marketing Director Leah Holmes at leah@outerbanksrealtors.com.