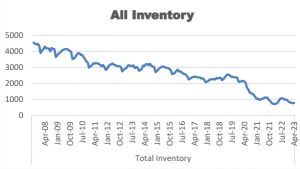 The last few statistical reports have drawn attention to an apparent "cooling off" considering the recent decline in inventory, among other factors.  However, a decline in inventory does not necessarily indicate a switch from a sellers to buyers market.  Looking at the total inventory graph since 2007, we can see that inventory was roughly 600% more than it is now and has been on a downward trend for most of that time.  It has also become relatively stable over the last two years.  Since this trend has been going on for so long, it's tempting to now call this level of inventory our new normal.
According to MLS Chair Maslin Seal, "While the number of residential sales is down over last year, it's actually tracking with our early-2020 pre-pandemic numbers quite closely." At the same time, Days on Market for residential sales continues to be at historic lows for the Outer Banks.  This indicates that demand is still high, and that the number of sales is only constrained by lack of inventory. Meanwhile, lots/land median price and sales were up compared to both April 2022 and March 2023.
Town to Town Comparison
With the exception of Ocracoke, all towns had a significant increase in residential days on market when compared to the same time last year.  However, when compared to the previous month Duck had the highest decline of 19 days.
Duck continues to lead with the highest residential median price at $925,000, a $28,000 increase over April 2022 and held steady compared to the previous month. While median residential prices did drop compared to April 2022, Corolla had a $63,000 increase compared to March 2023, with Hatteras a close second with a $62,000 increase.
In summary, while sales numbers and other real estate statistics have declined over last year, all evidence, either current or historically, indicate that the OBX is still in the middle of a very healthy sellers market.