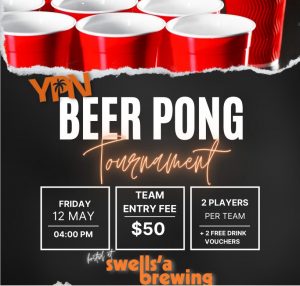 Join us at Friday, May 12th, at Swells'a in KDH for YPN's highly anticipated "Beer" Pong Tournament open to all OBAR members.  Games start at 4:00P and will continue until the last team is standing.  Register your team of 2 TODAY for only $50, which includes 2 drink vouchers, snacks, and a chance for prizes..
Cups will be filled with WATER ONLY.  Drinks and alcoholic beverages are available for purchase throughout the event.
Click to Register Your Team. The registration deadline is May 11th at 5:00P so don't delay!