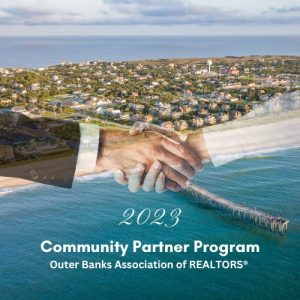 Since 1984 when OBAR Bylaws were originally adopted, local dues have essentially stayed the same. The local dues in 1984 were $186; currently they are $187. The support of our Community Partners offsets program expenses.
Platinum Good Neighbor Award Partner
Steven Gillis State Farm Agency & Rocket Mortgage
Diamond Community Partners
Bankers Insurance
Caliber Home Loans
Howard Hanna
First Bank
Brindley Beach Vacation & Sales
TowneBank Mortgage
Gold Community Partners 
Carolina Designs Realty
Joe Lamb Realty, Jr
Guaranteed Rate
Saga Real Estate & Construction
Outer Banks Blue Realty
Kees Vacations
Vacasa
Silver Community Partners
Southern Bank
Coast Realty
Hilton Garden Inn
Wells Fargo Home Mortgage
Tidewater Home Funding
Currituck County Farm Bureau-Tanya Parrish
Southern Trust Mortgage
There is still time to sign up for our 2023 Community Partner Program.  However, if you wish to have your logo on the banners displayed at every OBAR event,  you must submit your application by March 10th.
Click to Fill Out the Affiliate or REALTOR® Community Partner Application.
Submit completed applications to Membership Services director Karen Pierce at karenp@outerbanksrealtors.com.