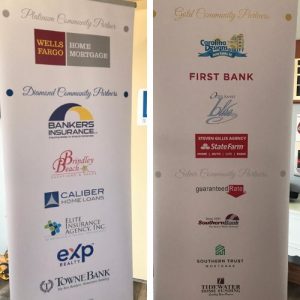 The deadline for becoming a 2023 Community Partner with OBAR is NEXT Tuesday, February 28th!
Don't miss your chance to be on the OBAR banners displayed at the OBAR office and at all events!  OBAR offers 2 categories of partnership:  One for affiliate businesses, and another for REALTOR® companies. Each category has multiple levels of partnership ranging from $250-$7,500 depending on which category you choose.  The REALTOR® package  is a "pre-pay" package where you pay for multiple options to attend charity, membership, other events, and more.
To join or renew your partnership with OBAR, please contact Member Services Director Karen Pierce at karenp@outerbanksrealtors.com or (252) 489-1478 TODAY.  You may also visit www.outerbanksrealtors.com and download the application under the resources tab.