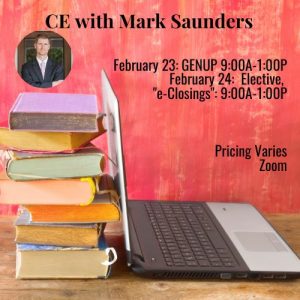 Our first continuing education event of 2023 is scheduled for February 23-24th with Mark Saunders via Zoom from 9:00A-1:00P.  Mark will be teaching the GENUP and a brand new elective, "e-Closings in NC".
February 23rd:  GENUP
The 2022-2023 General Update Synchronous (GENUP) Course is a four (4) hour course that must be completed by all provisional and non-provisional brokers who are not brokers-in-charge and/or do not have BIC-Eligible status and who wish to renew their licenses on active status on July 1, 2022, for the 2022-2023 license year.  The cost of the course is $35/OBAR member or $50/Non member.   Click to Register.
February 24th:  Elective, "e-Closings in NC"
North Carolina is leading the country with changes to how real estate closings are done. In the very near future, most closings will be done in a completely paperless manner, with no trips to an attorney's office. Stay ahead of the game by taking eClosings in NC, where you'll gain an understanding of the benefits of the electronic closing process and will focus on the changes brought about by an electronic process rather than a paper process in this 4-hour elective class.  The cost is $20 regardless of whether you are an OBAR member or not.  Space is limited so register as soon as possible.  Click to Register.
Can't make it to the February courses?