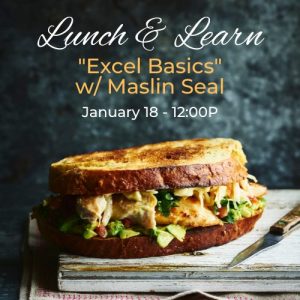 Join us at OBAR's Kilgore Training Center 12:00P, Wednesday, January 18th for our first Lunch & Learn of 2023, "Excel Basics" with Maslin Seal. If you need to brush up on your excel knowledge or are new to using Excel, this 1-hour event covers the basics of excel. Topics include preferred versions of Excel, opening, creating, and saving workbooks, worksheets, cell content, short cuts, and more.
This event is FREE for OBAR members and lunch will be provided if you join us in-person. There will be a Zoom option.
Stay tuned...  On March 15th, there will be a follow-up Lunch & Learn, "Excel 101" with Maslin Seal.