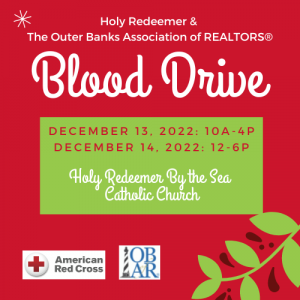 Once again, the American Red Cross is critically low on blood supplies. Now is the time to give the gift of life this holiday season.  For the fifth year in a row, OBAR is partnering with the Holy Redeemer by the Sea Catholic Church (HRCC) for our holiday blood drive. Join us on Tuesday, December 13, 2022, from 10:00A-4:00P, or Wednesday, December 15, 2022 from 12:00-6:00P at HRCC.
They will be collecting Power Red and Blood both days. The Red Cross will be practicing proper precautions to keep you safe.
They recommend making an appointment to reduce wait times. Visit www.redcross.org. click on "Give Blood" at the top of the screen, and then select "Find a Blood Drive", and enter HRCC as the "Sponsor Code".
This year our goal is to get 200 units of blood. Please help us do so!  Don't forget to wear your name badge or have a business card.
Please note:  If you donated during the David Pergerson Memorial Blood Drive on November 4th, you are net eligible to donate at this event.