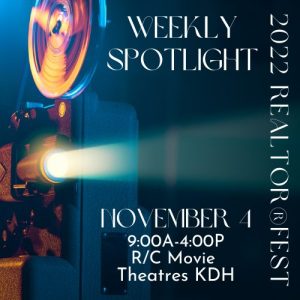 Register TODAY for the must-see event of the year! REALTOR®Fest is officially scheduled for November 4th at R/C Movie Theatres, KDH, from 9:00A-4:00P.
Presentation Spotlight
Once again, we will have a Due Diligence Panel featuring Appraiser Anne Morrisette, Insurance Agent Alex Fiorillo, Home Inspector Adam Blankenship, Attorney Starkey Sharp, and moderated by Property Management Director Brook Sparks.  Get the answers to the questions you have about the different procedures involved in the due diligence process and learn what to expect as the market continues to change.
Click to Register for REALTOR®Fest TODAY!
Registration is $35/member or $50/non-member.  Registration includes lunch, popcorn, beverages, coffee, unlimited access to over 30 business vendors, and a plethora of valuable presentations and panels.