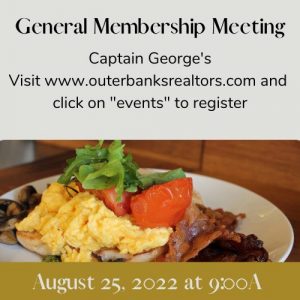 Thank you to our members who joined us for our August General Membership Meeting.  Almost 100 members attended the event which featured Outer Banks Visitors Bureau Executive Director Lee Nettles and Dare County Tourism Board Chairman Tim Cafferty who discussed the latest information about the proposed Outer Banks Event Site.
We were also joined by OBAR member and Dare Education Foundation Secretary Jessica Loose who gave a presentation on the ways to donate, and recognized Twiddy and Co and Coldwell Banker Seaside Realty for their recent generous donations.
Click to View the Dare Education Foundation Flyer.
For more information about the Outer Banks Event Center visit outerbanks.org/FAQ or contact Lee Nettles at nettles@outerbanks.org or 252-473-2138 or Tim Cafferty at tim@outerbanksblue.com or 252-255-1220.