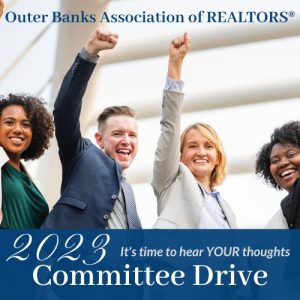 The 5th annual OBAR committee drive is underway.  OBAR has a variety of committees. Are you a numbers person? Do you like setting specific guidelines for operations? Talking politics? Networking with fellow REALTORS® and community business leaders?  Or maybe getting a close up look behind the scenes of various events? Then now is your chance to join a 2023 OBAR committee!
Meeting requirements vary, but are generally once amonth for an hour or so, and sometimes even less!  President Doug Brindley encourages members to volunteer to help increase member involvement and input. Says Doug, "Volunteerism is so rewarding and OBAR has so many opportunities to be involved. All you have to do is show up!"  For more information on OBAR committees visit www.outerbanksrealtors.com/about-our-committees/.
To sign up for a committee visit: http://members.outerbanksrealtors.com/join-a-committee.
The committee drive runs until October 31st. Terms begin on January 1st, 2023. So don't wait, apply today!