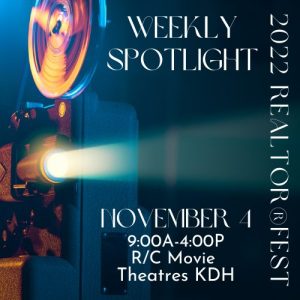 Must see event of the year! REALTOR®Fest is officially scheduled for November 4th at R/C Movie Theatres, KDH, from 9:00A-4:00P.
This year, the event kicks off with keynote speaker Matt Jones, known as the "8 Continent Marathon Man".  Matt, an acclaimed author and motivational speaker, battled and conquered three forms of cancer.  After relearning to walk, he began running marathons across the world. His inspirational story will motivate you to boost your real estate career by reigniting your passion and purpose as a REALTOR®, teach you to stop stressing, develop bulldog persistence, and much more.
Click to Register for the Early Bird Price!
Early bird pricing is $25/member or $35/non-member and ends August 31st.  Registration includes lunch, popcorn, beverages, coffee, unlimited access to over 30 business vendors, and a plethora of valuable presentations and panels.