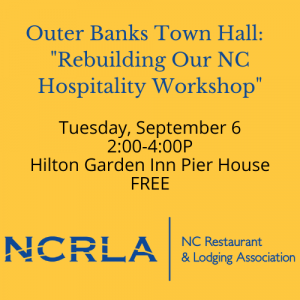 From the Outer Banks Visitors Bureau on behalf of the NC Restaurant and Lodging Association (NCRLA),
Workforce challenges continue to plague restaurants, hotels, attractions, bars, breweries, and other hospitality related businesses in North Carolina. The North Carolina Restaurant and Lodging Association (NCRLA) is working to address the issue.
North Carolina Department of Commerce (NCDOC) was awarded $6.4 million to establish a new tourism-focused economic recovery initiative. The new program, Supporting and Strengthening Resiliency in North Carolina's Travel, Tourism, and Outdoor Recreation Sectors, is designed to develop and implement economic-building strategies for the recovery of North Carolina's travel and tourism industries that suffered economic losses due to the pandemic. The NCDOC has contracted with the NCRLA Foundation to administer a $1.1 million hospitality workforce training program.
The training program will offer formal training and certifications to help attract, expand and retain talent needed to fuel NC restaurants, hotels, and other hospitality related businesses. Targets for the training will include:
Career and Technical Education Programs
Post-Secondary Education Programs
Workforce Entry and Re-Entry
Professional Advancement for employees currently working in the hospitality industry
To learn more about this program, click here.
The event is Tuesday, September 6th, from 2:00-4:00P.  Registration is FREE and you do NOT have to be a member of the NCRLA to attend.  Click to register.