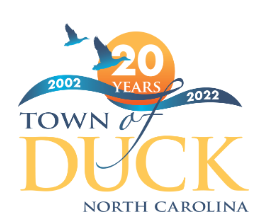 From the Town of Duck:
As many of you may know, the Town of Duck participates in FEMA's National Flood Insurance Program (NFIP) and its voluntary program, the Community Rating System (CRS), that offers flood premium discounts for local government actions that go above and beyond the minimum federal requirements to promote flood safety.
As business members of our community, the Town of Duck Department of Community Development offers a suite of information that you, your clients, and members of your organization may find useful.
The Town of Duck maintains a Flood Map Information Service as part of its participation in the NFIP/CRS Program.  The Town maintains copies of current and previous Flood Insurance Rate Maps (FIRM) for areas within the Town's incorporated limits.  We can determine if a structure is located within a Special Flood Hazard Area as well as the applicable flood zone and base flood elevation that applies to the property.  In addition to property map location, we are able to provide the FIRM community number; panel number; index date; and elevation datum (NGVD or local datum).  This information can be requested and provided to you directly, or you can access this information online at https://www.townofduck.com/community-development/floodplain-info/.
For new home buyers and homeowners, below is a FEMA Brochure that outlines the importance of, and mandatory requirement to purchase flood insurance when a property is located within a special flood hazard area.  Please feel free to distribute this information to your clients and customers.
The Town can provide copies of all FEMA Elevation Certificates for structures constructed since the Town's incorporation in 2002.  Town records include some FEMA Elevation Certificates maintained by Dare County for the Duck area prior to the Town's incorporation.  In addition to elevation certificates, we are able to provide property contours from recent aerial pictometry, and we can verify local drainage or stormwater issues, hot-spot flooding, repetitive loss areas and coastal erosion hot-spots.
Lastly, with the adoption of 2020 FEMA flood maps, there was a substantial shift of properties from the special flood hazard areas to non-flood zones, where common flooding has occurred. In an effort to educate owners, builders, realtors and lenders of the risk that remains despite these flood map changes, we are including an educational brochure developed by the Outer Banks municipalities below.  Please feel free to distribute this brochure as you see fit and we are happy to supply you with additional brochures if requested.
To address these changes and comply with new FEMA standards, the Town of Duck Flood Damage Prevention Ordinance was designed to improve the Town's resiliency to coastal flooding and minimize property damage due to flooding.  Many of the adopted standards will have the additional benefit of improving the Town's CRS rating, thus reducing flood insurance costs.
If you have questions about our flood maps, would like to request information as part of this service or would like more details regarding the new maps and the associated flood damage prevention ordinance, please call the Town of Duck Department of Community Development at 252-255-1234 or email Sandy Cross, the Town's Floodplain Manager, at scross@townofduck.com.
Please feel free to convey this information to the professionals within your office.
We welcome and appreciate your comments and suggestions for improving the Town of Duck Floodplain Management program.
Prepare, Protect, Insure Brochure
FEMA Brochure
Sincerely,
Sandy Cross
Senior Planner/CAMA LPO/CZO/CFM
Department of Community Development