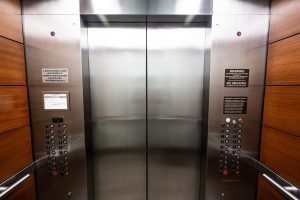 Ratified NC House Bill 619, an act imposing safety requirements for elevators in certain residential rental accommodations is awaiting NC Governor Roy Cooper signature.  HB Bill 619, more commonly known as "Weston's Law" in memory of a 7-year-old Ohio boy who died last summer when he became trapped between the elevator car and elevator shaft at a rental home on the Outer Banks, seeks to add private residences, cottages, and similar accommodations, specifically those rented for 15 or more days per calendar year, to the Elevator Safety Act, Article 14A of the General Statutes.
The legislation includes prohibiting gaps between the landing door and the hoistway face of the car of 4 inches or more.  Elevator doors and gates must be rigid and withstand a force of 75 pounds applied without permanent deformation, a three-quarters of an inch deflection in the door, or displacement of the door or gate from its tracks.  The bill states that the NC State Building Code be revised to reflect what is included in the legislation.
Click to Read a Summary of the Proposed Changes.
Once signed, the elevator safety requirements will go into effect October 1, 2022.  Special thanks to the Outer Banks Home Builders Association for their involvement in the passage of this legislation.