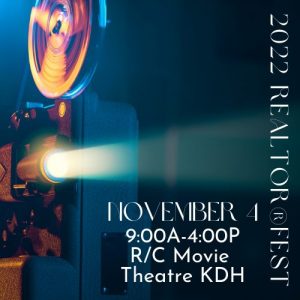 REALTOR®Fest is officially scheduled for November 4th at R/C Movie Theatre, KDH, from 9:00A-4:00P.  Join us for a day of presentations, vendor expo, and lots of free stuff.
Registration is now OPEN!
Cost:  
Early Bird Member (By Aug 31):  $25.00
Early Bird Non Member (By Aug 31):  $40.00
Regular Registration Member (Sept 1):  $35.00
Regular Registration Non Member (Sept 1):  $50.00
Your registration fee includes entrance and access to over 30 local businesses, multiple informative presentations and panels, coffee, a boxed lunch, popcorn, soda, and a free raffle ticket.
Click to Register NOW and Save!