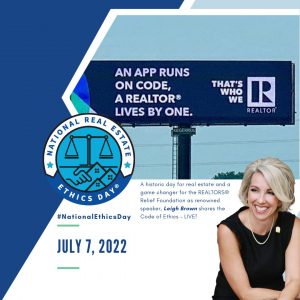 National Ethics Day with North Carolina's very own Leigh Brown is next Thursday, July 7, 2022 and you can join us for FREE!
Please register and see COA's brand new campus at Veterans Hall DARA 110 from 1:00-4:00P.  Check-in begins at 12:30P.  Once again NCR is covering the cost and Leigh Brown is donating all of the proceeds to the REALTOR® Relief Foundation. Satisfy NAR's Code of Ethics requirement on us!
Refreshments will be provided.