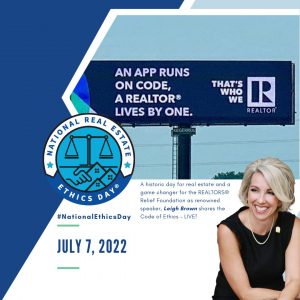 The "NAR Code of Ethics Requirement" triennial Cycle 7 began January 1, 2022 and ends on December 31, 2024.  This year, REALTOR® Associations around the nation are once again participating in National Ethics Day with North Carolina's very own Leigh Brown.
Join OBAR July 7th at COA's Veterans Hall DARA 110 from 1:00-4:00P.  Check-in begins at 12:30P.  Once again NCR is covering the cost and Leigh Brown is donating all of the proceeds to the REALTOR® Relief Foundation.  Satisfy NAR's Code of Ethics requirement on us!
Check out the National Ethics Day Facebook group where there will be robust conversations and Q&A.
Click to join the Facebook Group.
And don't forget the hashtag:  #NationalEthicsDay