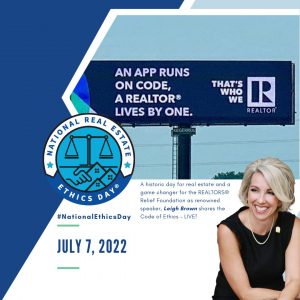 The "NAR Code of Ethics Requirement" triennial Cycle 7 began January 1, 2022 and ends on December 31, 2024.  This year, REALTOR® Associations around the nation are once again participating in National Ethics Day with North Carolina's very own Leigh Brown.
Join us July 7th at COA's Veterans Hall DARA 110 from 1:00-4:00P for a historic day for real estate and a game changer for the REALTORS® Relief Foundation.  Check-in begins at 12:30P.  Once again NCR is covering the cost.  Satisfy NAR's Code of Ethics requirement on us!
As with every year, make sure to check out the Facebook group where there will be robust conversations and Q&A.
Click to join the Facebook Group.
And don't forget the hashtag:  #NationalEthicsDay