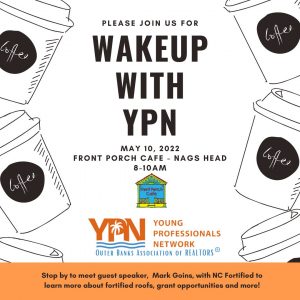 YPN is hosting a networking social on Tuesday, May 10, from 8:00-10:00A, at Front Porch Café in Nags Head.  All members are welcome to attend.
Mark Goins with NC Fortified will be joining us at 9:00A to discuss roof certifications, eligibility and requirements for grants, and overall basic fortified roof information that is sure to benefit us all
This event is a great chance to meet new members and OBAR Community Partners, make connections that will help your business thrive, and learn more about upcoming OBAR events.