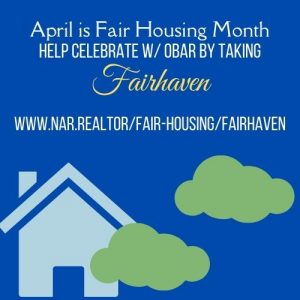 April is Fair Housing Month, and to celebrate OBAR is challenging members to complete Fairhaven by April 27 to be entered into a drawing for a:
$500 gift card
The drawing will be held at the next General Membership Meeting on April 28 at 9:00A.
Fairhaven is the name of a fictitious town highlighted in an hour-long simulation that takes you through various scenarios during a real estate transaction.  It's like a video game.  Each situation will challenge you to evaluate how well you are adhering to Fair Housing laws while you answer questions.