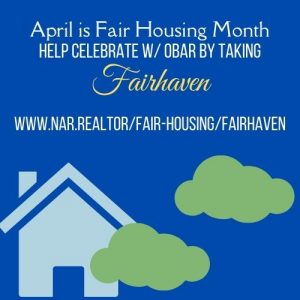 In March, OBAR's Board of Directors approved several initiatives proposed by OBAR's Diversity, Equity, and Inclusion Task Force, led by Chair Jimmy Anderson. One of the initiatives is to have as many members as possible complete NAR's Fairhaven Simulation.
April is Fair Housing Month, and to celebrate OBAR is challenging members to complete Fairhaven by April 27 to be entered into a drawing for a $500 gift card.  The drawing will be held at the next General Membership Meeting on April 28 at 9:00A.
Fairhaven is the name of a fictitious town highlighted in an hour-long simulation that takes you through various scenarios during a real estate transaction.  Each situation will challenge you to evaluate how well you are adhering to Fair Housing laws while you answer questions.
Click To Take The Fairhaven Simulation.
You will need your NAR username and password.