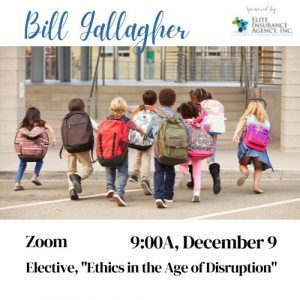 Bill Gallagher has left retirement behind and is returning virtually to the Outer Banks for his class, "Ethics in the Age of Disruption" on December 9, 2021 from 9:00A to 1:00P.
This is a 4 hour elective CE course that will also satisfy NAR's Code of Ethics requirement for the current cycle that expires on December 31, 2021.
Click here to register for this course. The cost is $35/member or $70/non member. This course is proudly sponsored by Elite Insurance.