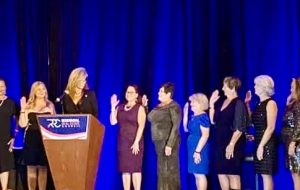 Rosemarie Doshier of The Doshier Team OBX Realty was installed this past week in San Diego as Regional Vice President (RVP) for the Residential Real Estate Council (RRC) Certified Residential Specialist (CRS) for Region 8.  As RVP, Rosemarie will work closely with the state leadership for Arizona, Colorado, New Mexico, Nevada, and Utah by helping to enhance the REALTOR® brand for REALTORS® in those areas. The RRC awards the prestigious CRS designation.  This designation is the highest credential awarded to REALTORS® who have completed advanced annual professional training and demonstrated outstanding achievement in residential real estate. CRS designees are an elite group, representing the top 3% of all residential REALTORS® in the nation.
Rosemarie is active in local, state, and national REALTOR® associations. She is a Past President of the Outer Banks Association of REALTORS® (OBAR), having served as President in 1998 and 2008—one of the few members to have served as President for multiple non-consecutive terms.  She was recognized as REALTOR® of the Year in 1995 and was honored with OBAR's esteemed Career Achievement Award in 2014. She is a Life Member of OBAR and the NC Association of REALTORS® (NCR) having served well over 25 years with each association.  She is also Emeritus A for RRC CRS, and past North Carolina RRC CRS of the Year.
Congratulations Rosemarie!