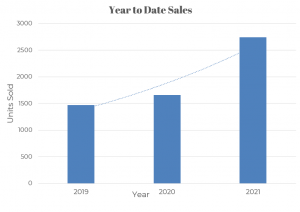 Despite some great numbers in July's statistical report, the OBX is still seeing a slump in certain areas in July which is normal for this time of year.  But Residential Sales were up 65% compared to July 2020 which is a difference of 1,084 more units sold.  Lots and Land sales were up an astounding 147% to 579 which is 345-unit difference from this time last year.  This may also account for why 57 more building permits were issued so far this year compared to 2020.
Town to Town Comparison
Most towns saw a decrease in total Residential Units sold.  Only Roanoke Island, Currituck Mainland, and Ocracoke saw marginal increases compared to July 2020.  However, Hatteras, while down in Residential units sold, had a 36% increase in Median Price which is equivalent to $135,000 compared to this time last year.
In Closing
While we are seeing a bit of a slump in July which is normal for this time of year, overall sales are up overall year to date.  And now we have almost 8 weeks of inventory which is a bit of a stress reliever for our agents. Last month we only had 5.5 weeks.  We are still in a hot sellers' market!