December Year End MLS Statistical Report
A Year of Records
Year to Date Sales
2020 was a record breaker, surpassing records from 2005 when real estate was at its highest peaks. According to the December Year End Statistical Report by MLS Director Dan Sutherland, 2020 year to date (YTD) sales were up 44% with 3,742 properties sold compared to 2019 YTD sales which were 2,606: a difference of 1,136 properties sold. Most importantly, not since 2004 have REALTORS® sold 3,747 properties totaling $1.57 BILLION. This year surpassed 2005 YTD by $97.6 MILLION. Among residential sales, 2020 YTD saw $1.47 billion vs 2019's $1.16 billion: a difference of $302 million.
December Sales
Sales in December 2020 were up 5% compared to November 2020 and up 78% compared to December 2019. In addition, the median sale price rose 31% to $485,000: a $114,000 increase over the same time last year.
Inventory
Total active inventory decreased by 45% to a total of 1,146 properties for sale. Compared to 2019 there were 2,098 properties for sale which is a difference of 952 total properties for sale. Residential inventory in the OBX is down 58% to 560 units available vs. the 1,341 in 2019. Lots/land Inventory was down as well with 166 LESS units available than the same time in 2019. Even distressed inventory was down 71% compared to December 2019.
Town to Town Comparisons
Once again sales soared in Corolla. The town saw the largest increase in residential units sold at 129% which was 316 more units sold than in December 2019. But it was Nags Head that saw a 20% increase in median price from $399,900 in December 2019 to $480,000 in December 2020. That is an $80,100 increase! However, while Nags Head may have seen the largest increase in median value, Corolla had the highest median sales price compared to all towns in December at $560,000, which was up $70,000 for the town from this time in December of 2019.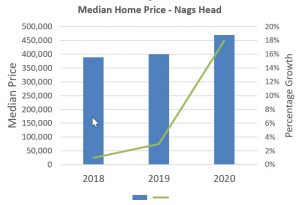 2020 was definitely the year for REALTORS®. Congratulations, your efforts helped boost the economy in the Outer Banks and set records we haven't seen since 2004!